LightScribe Direct Disc Labeling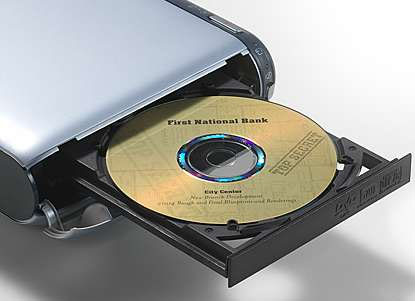 With LightScribe Technology one can create laser etched CD or DVD labels on specially coated discs. LightScribe is currently licensed for HP and LaCie products.
Burn your tracks onto the data side of the disc. Flip the disc over to the label side and put it back in the drive. Burn your label by opening your favorite LightScribe-enabled label-making software and going to the CD template work area. Now you do all of your creative design work-imported pictures, copy, and artwork. When you are satisfied with what you have done, click "print." It really is that simple! No ink, no messy markers, no clumpy adhesive labels . just an amazingly beautiful label right before your eyes.

… LightScribe-enabled CD/DVD disc drive contains a special laser that pumps light energy into a thin dye coating on the label side of the disc. The light from the laser causes a chemical change in the dye coating that shows up as a visible point on the disc. With laser precision, LightScribe delivers closely controlled light energy to multiple points on the disc as it spins in the drive. The result is a high-resolution reproduction of the artwork, text, or photos you composed in the software application.