nVIDIA Scalable Link Interface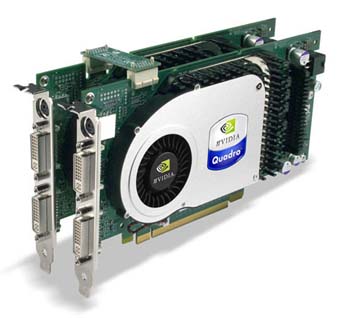 nVIDIA's Scalable Link Interface (SLI) technology combines the power of 2 graphic cards:
Combining two NVIDIA SLI-certified graphics cards in a single system allows you to essentially double your graphics performance (up to 2x). NVIDIA SLI-certified GPUs feature dedicated, built-in SLI hardware and take advantage of the additional bandwidth of the PCI Express bus architecture. Connected by the SLI connector, each GPU has a maximized connection pathway, and can leverage the second card for reaching top-speed performances on a single display. Professional users can also take advantage of SLI technology on dual NVIDIA Quadro GPUs to span an OpenGL window across multiple displays. Unlike previous dual-card solutions, NVIDIA SLI can output in both digital and analog formats for the highest image quality.