US to Shoot Down Disabled Spy Satellite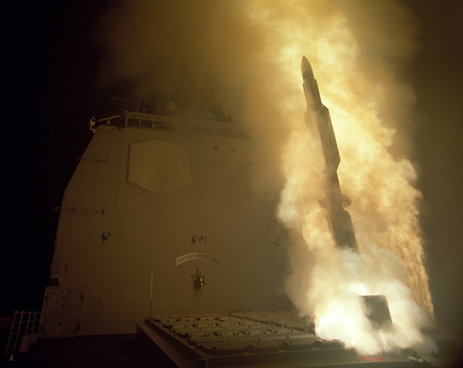 US spy satellite USA 193 was launched on December 14, 2006 but malfunctioned shortly after being placed in orbit. In January the satellite was reported to have lost orbit and falling back to Earth. This prompted the US government to form a plan to destroy the satellite with a missile due to the 1000lbs of toxic hydrazine fuel stored onboard.
The USS Lake Erie will fire a Standard Missile-3 (SM-3) missile at the satellite 130 miles above the Earth. The impacts of the two objects colliding will hopefully destroy the target. link: 1, 2
UPDATE: US Department of Defense confirms that on February 20, 2008 at approximately 10:26PM EST the SM-3 missile was launched and hit the satellite USA 193. link
USA 193 is an American military satellite that was launched from Vandenberg AFB at 21:00 UT on 14 December 2006. It is a highly classified spacecraft, owned and operated by the National Reconnaissance Office (NRO). No further details are available.
The Raytheon Company produced Standard Missile-3 (SM-3), part of the Missile Defense Agency's sea-based Aegis Ballistic Missile Defense System, is designed to defend against short to intermediate range ballistic missile threats during the midcourse phase of flight. The missiles are deployed on Aegis cruisers.
USS LAKE ERIE is the 24th Guided Missile Cruiser equipped with the AEGIS weapons system and the eighth TICONDEROGA class cruiser built by Bath Iron Works in Maine. She is the second ship to bear the name.
Currently, USS LAKE ERIE is the Navy's Theater Wide Ballistic Missile Defense Test Ship. Her mission is to test the feasability of providing Ballistic Missile Defense (BMD) from the sea.