Icuiti Video Eyewear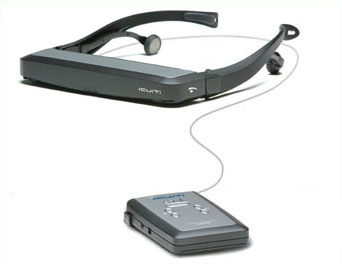 Icuiti V920:
The V920 is a sleek and stylish wearable display system that enables you to enjoy high quality traditional video and stunning 3D stereoscopic video in the privacy of your own virtual movie theater. The V920 connects to practically any mobile or stationary device that outputs standard video and audio.
Icuiti M920:
Many applications require the full screen display of a laptop AND the pocket sized portability of a PDA. The M920-CF delivers this, as it offers the equivalent of a desktop monitor in a low profile, compact form factor. The M920 is one of the smallest and lightest head-worn displays in the world, at only 3.5 oz . Utilizing a new high brightness no-flicker display, the M920 is easily readable in either daylight or darkness.

The display connects directly to any CompactFlash Type II or PCMCIA slot on Pocket PC based PDAs. Our software drivers for Pocket PCs, allow for full VGA screen information (640 x 480 pixels) to be displayed on the hands free M920 display.

The M920-Video model connects to virtually any video source, laptops, portable media players, video capable cell phones, test and measurement equipment, and video cameras to name a few. Its industry leading low power electronics drive the display for up to 5 hours on a pair of AA batteries.